MZ07(L) Series Robot
Product code: robot-012
Quick Overview
The World's Fastest Light Compact Robots
Listed Price
Product Options
High-Speed Operation
Because it has the world's fastest operation, it can contribute toward improved productivity.
Wire Routing Via Hollow Wrist
Risk of interference with peripheral devices due to wiring is reduced, which improves usage applications and makes conveyance in narrow spaces easier.
Various Applications Available
In addition to the standard specifications, various needs can be met with the vision specifications, additional axis specifications, and force sensor specifications.
Smart Cable Routing
Cable and tubes can be routed through hollow wrist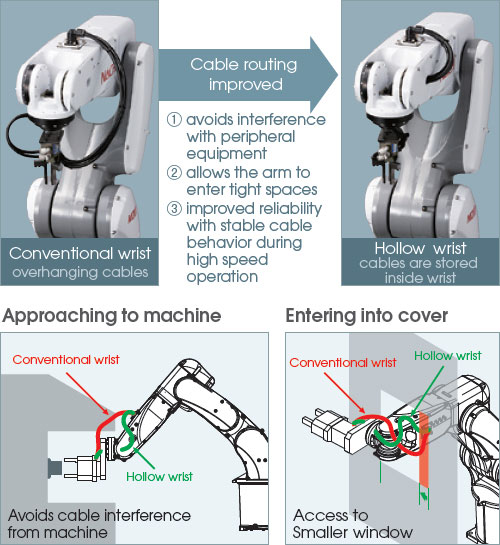 Specification

| Model | Number of Axes | Load Capacity | Maximum Reach |
| --- | --- | --- | --- |
| MZ07 | 6 | 7kg | 723mm |
| MZ07P | 5 | 7kg | 723mm |
| MZ07L | 6 | 7kg | 912mm |
| MZ07LP | 5 | 7kg | 912mm |

Robot Application
Handling, Pick&Place Articulated
Axes
6 Axis
Payload (kg)
004-007 kg
Working range (mm)
0-1000 mm
Weight
You may also be interested in the following product(s)