LP series LP130/180/210
Product code: robot-011
Quick Overview
High-Speed Palletizing
Listed Price
Product Options
High-Speed Palletizing
1,500 packages per hour for 130kg loads (LP130)
1,800 packages per hour for 60kg loads (LP130)
Flexible system setup is available with 130kg, 180kg, or 210kg capacity models.
Various Applications
Can be used to load various work pieces such as cardboard and bags
Advanced palletizing functions allows for easy programming of various loading patterns
Paradise function enabling easy operation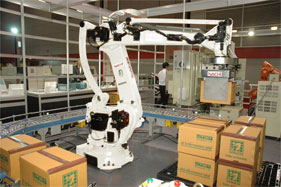 Equipped with an automatic program generation function that can be used simply by inputting work measurements and selecting a palletizing pattern.
Also offers special functions such as an "overlapping placement prevention" function and a "work height correction" function that supports bags for which thickness changes according to self-weight. These functions realize simple setting and teaching.
By using the simulation software FDonDesk, it is possible to create programs and to check palletizing conditions and cycle time on a PC.
Specification

| Model | Number of Axes | Load Capacity | Maximum Reach |
| --- | --- | --- | --- |
| LP130 | 4 | 130kg | 3,210mm |
| LP180 | 4 | 180kg | 3,210mm |
| LP210 | 4 | 210kg | 3,210mm |

Robot Application
Handling, Palletizing
Axes
4 Axis
Payload (kg)
100-250 kg
Working range (mm)
2654-3734mm
Weight
You may also be interested in the following product(s)